Are you ready to embark on an exciting journey into English grammar? If you're a Class 8 student looking to test your language prowess, you're in for a treat! Our English Grammar Quiz for Class 8 is designed to be both fun and educational, packed with Multiple Choice Questions (MCQs) that will challenge and enhance your understanding of grammar concepts.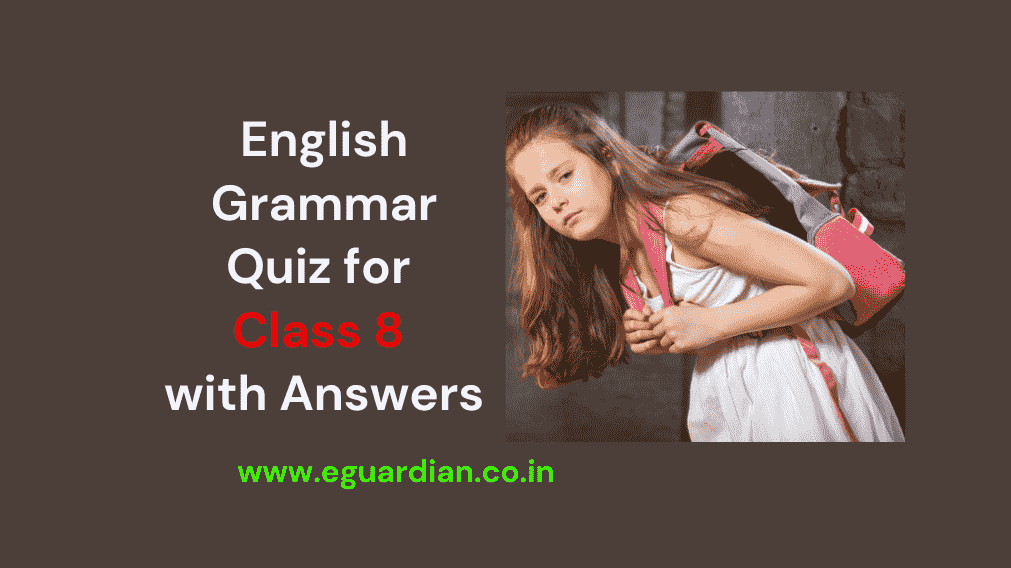 So, let's dive right in and see how well you know your grammar rules!
Why Take the English Grammar Quiz?
As you navigate the fascinating realms of language and communication, a strong foundation in English grammar is essential. This quiz offers several benefits:
1. Interactive Learning:
The quiz isn't just a test; it's an interactive learning experience. Engaging with MCQs helps you dynamically grasp grammar concepts, making learning enjoyable.
2. Self-Assessment:
By taking the quiz, you get to assess your grammar skills. Identifying your strengths and weaknesses is beneficial to focus your learning efforts better.
3. Confidence Boost:
Solving grammar questions correctly provides a sense of accomplishment and boosts your confidence in effectively using English.
The Format: MCQs Galore
Our English Grammar Quiz for Class 8 comprises a range of MCQs that cover various grammar topics:
Nouns, Pronouns, and Adjectives

Verbs and Tenses

Prepositions and Conjunctions

Sentence Structure and Punctuation

Active and Passive Voice

Direct and Indirect Speech

Vocabulary and Synonyms
How to Get Started
Click on the START button:

English Grammar Quiz for Class 8 will be started.

Select Your Answers:

 For each question, read the options carefully and choose the answer you believe is correct. Remember, there's only one correct answer for each question.

Submit Your Responses:

 Once you've answered all the questions, click the "Submit" button to see your results.
Tips for Success
Read Carefully:

 Take your time to read each question and all the answer choices before selecting.

Elimination Technique:

 If you're unsure about an answer, use the elimination technique. Cross out the options you're certain are incorrect, then choose from the remaining ones.

Trust Your Instincts:

 Often, your first instinct is the right one. Trust your intuition and go with the option that feels correct to you.
Unlock the Results and Learn
After submitting your answers, you'll receive your quiz score and detailed explanations for each question.
It is where the real learning happens! Understanding why a particular answer is correct or incorrect enhances your grasp of the grammar rules.
Share the Fun!
Invite your classmates and friends to take the English Grammar Quiz for Class 8. It's a fantastic way to challenge each other and enjoy friendly competition while learning.
Conclusion
Engaging with the English Grammar Quiz for Class 8 is more than just a test; it's a stepping stone towards becoming a master of the English language. By practising MCQs, you're nurturing your grammar skills in an effective and enjoyable way. So, are you up for the challenge? Take the quiz and discover the grammar whiz within you!